with Alex te Paske
Date: 28 April
Time: 15.00-18.00
Price: € 80,00 (including Superbrain yoga instruction sheet & ceritficate)
Location:  saktiisha yoga centre
Group size: 4-10 people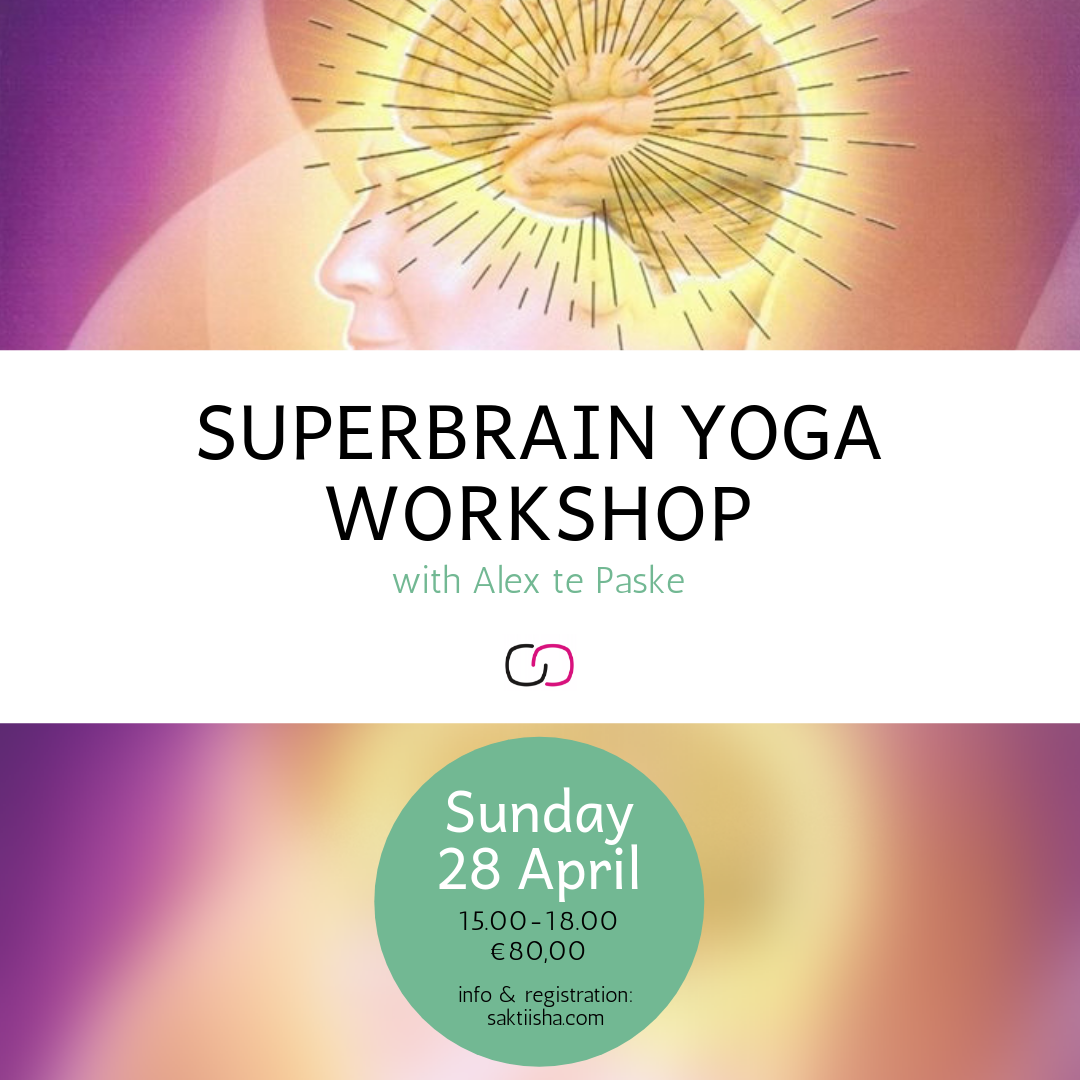 Superbrain Yoga is een yogatechniek om de hersencellen op te laden en te activeren.

Het helpt het geheugen, leersnelheid, vermindert stress en heeft ook een bewezen positieve invloed bij o.a. dyslexie, autisme, ADHD/ADD en gedrags- en leerproblematiek.

En het kost, nadat je het geleerd hebt in de Superbrain Yoga workshop, slechts 2 minuten per dag om toe te passen!

Superbrain Yoga is onderzocht in meerdere studies en is bij dagelijkse beoefening bewezen effectief om:
•De concentratie, focus en geheugen te versterken
•De hersenen beter te helpen functioneren
•De creativiteit, intelligentie en intuïtie te stimuleren
•De innerlijke vrede en kalmte te vergroten
•Stress te verminderen

Superbrain yoga kan, met begeleiding, al op jonge leeftijd (vanaf 7 jaar) gedaan worden. Daarnaast kunnen ook mensen op oudere leeftijd Superbrain Yoga doen om de hersenfuncties te ondersteunen.
Goed om te weten: Na deze workshop kan je de techniek met je vrienden en kinderen delen om de superbrain yoga samen te beoefenen. En je hebt geen yogamat nodig.
----------
Superbrain Yoga is a special yogic technique to supercharge and activate the brain cells.

It helps memory, learning, reduces stress and also has a proven positive influence on, among other things, dyslexia, autism, ADHD / ADD and behavioral and learning problems.

And it takes, after you have learned it in the Superbrain Yoga workshop, only 2 minutes per day to apply!

Superbrain Yoga has been studied in several studies and is proven to be effective when daily practiced:
• Strengthen concentration, focus and memory
• Helps the brain to function better
• To stimulate creativity, intelligence and intuition
• Increase the inner peace and tranquility
• Reduce stress

Superbrain yoga can, with guidance, be done at a young age (from 7 years). In addition, people in old age can also do Superbrain Yoga to support the brain functions.

Good to know: After this workshop you can share the technique with your friends and children to practice the superbrain yoga together. And you do not need a yoga mat!
Meld je hier aan/Register here