with Sherita Paltan
Date: 26 May
Time: 13.45-16.45
Price: € 35,00
Location:  saktiisha yoga centre
Group size: Max 10 participants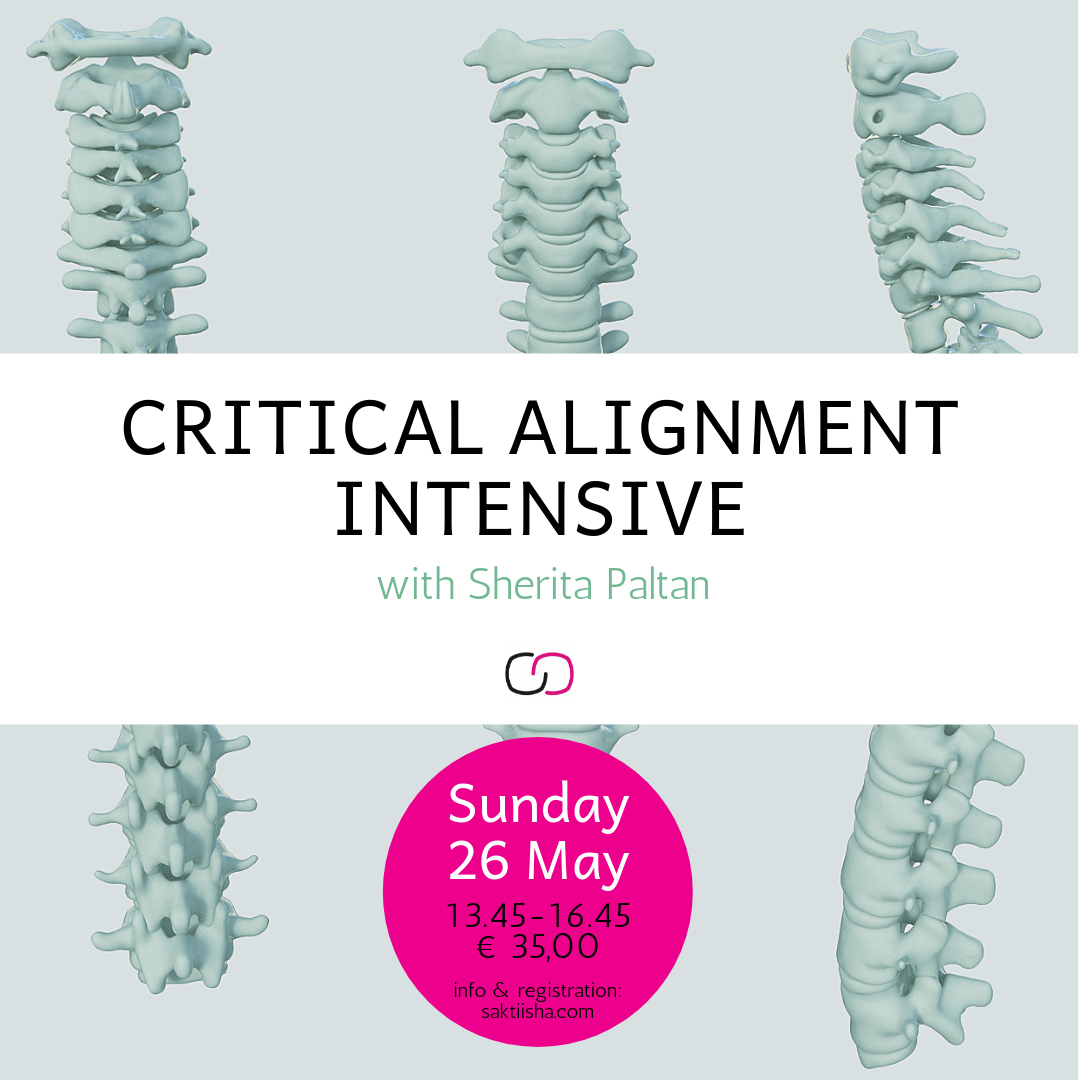 The aim of this practice is to experience conscious movement though relaxation of the movement muscles. By relaxing the movement muscles, postural muscles and related parts of the skeleton can stretch and pass movement chains from one part to the body to the next. Postural muscles that keep the skeleton in balance are activated . During this 3 hour workshop we will explore the connection and coordination between different parts of the body to experience the body as a whole.
By using props precise support and pressure will be given to the areas that are stiff or strained,  the spinal chord's alignment and mobility will be restored.  We will work towards a mindful sequence of movement in which calmness and balance can be experienced.
------
Het doel van dit programma is te ontdekken hoe je bewust bewegingen aanstuurt vanuit het ontspannen van de bewegingsspieren. Door stijfheid en gespannen spieren eerst te ontspannen, herstelt de mobiliteit voor doorgifte van beweging in verschillende delen van het skelet. Houdingsspieren die het skelet in balans houden worden geactiveerd. Tijdens deze drie uur durende les onderzoeken we de lichaamsverbindingen en de coördinatie van beweging om tot een totaal attentie te komen waarin we het lichaam als geheel ervaren.   
Door het gebruik van hulpmiddelen ter ondersteuning om druk te geven op die gebieden die stijf en gespannen zijn, herstelt de middenlijnkracht en mobiliteit van de wervelkolom. We bouwen toe naar    een aandachtige volgorde van bewegingen waarin rust en balans wordt ervaren.
Meld je hier aan/Register here