with Neema Laad
Dates: Saturday 16 March 2019
Time: 13.00-17.00
Price: eur 75,00 (Cooking Workshop)
Location:
 Hortus, Anna Paulownaplein 3, The Hague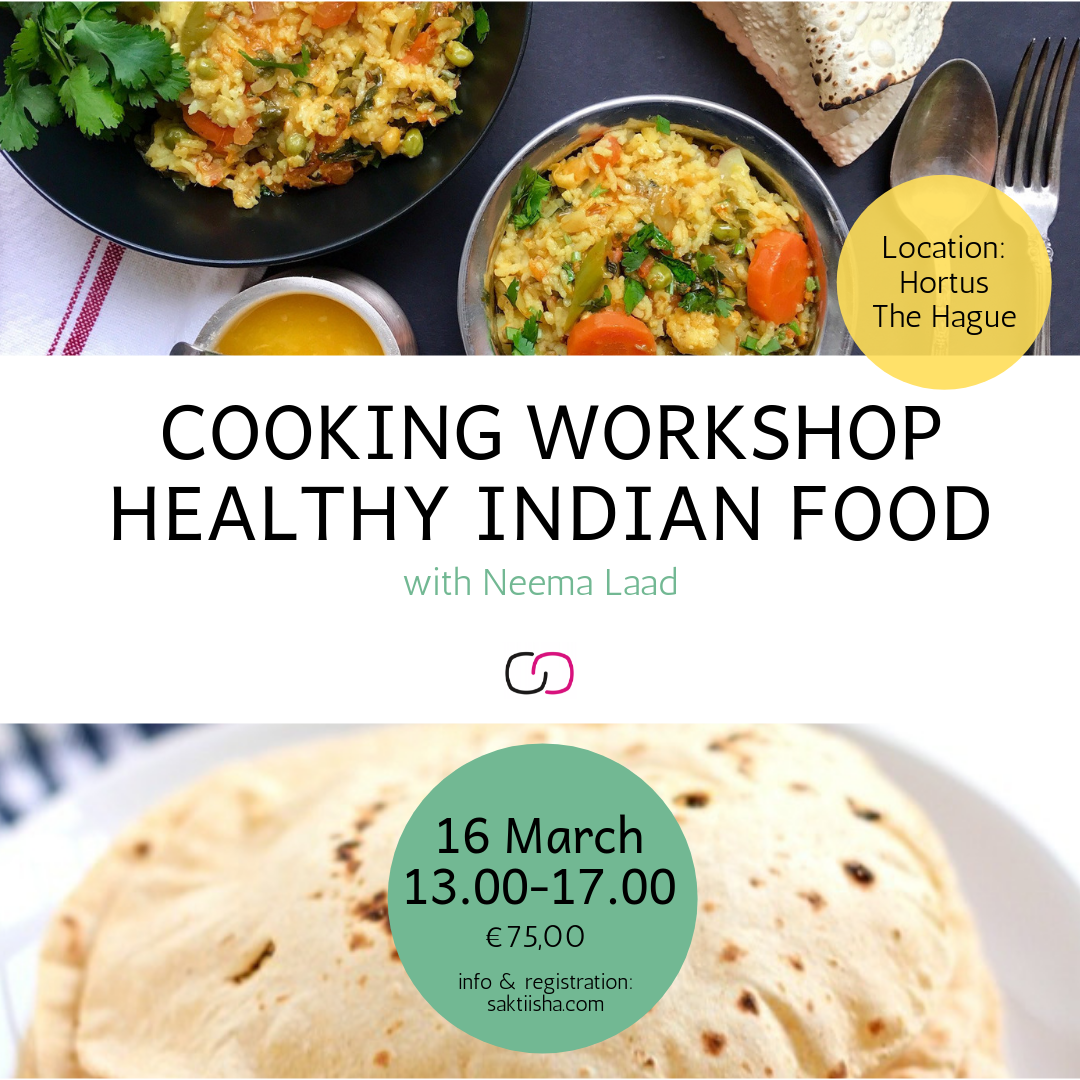 Our human physiology is a reflection of the laws of the universe, and the more in tune our lives are with nature, the healthier we are likely to be! While practicing yoga regularly your body start to go closer to the nature and ask for light and healthy food which can be digested easily within 4 hours of time. 
I know that Indian food is said to be unhealthy food due to the way It is cooked, I also agree this but if you change the way of cooking while keeping your taste intact then Indian food turns out to be very healthy as well. 
Indian food is a good mix of various spices and each spice has its benefit to our health. These spices not only add flavours and aroma; they also bring therapeutic value to any meal. Spices help boost natural immunity, and most of them can rev up our digestion so our bodies are able to absorb and assimilate the nutrients from the foods we eat!
During this workshop we are going to talk about the following topics:
-How the values of the food can be preserved while cooking and maintaining the taste of it.
-How each spice is beneficial to our health.
-The combination of food (many times we eat such a combination of food which irritates our digestion system immediately and cause indigestion) which should be avoided.
-What is the meaning of our emotions while cooking food for our family/friends.
-Some Ayurvedic home remedies (powder&tea made of spices) to heal our common stomach issues.
 Come and join us to grab such a healthy information and as well as the delicious healthy food to learn and enjoy.

Neema is, besides a yoga teacher, also an amazing cook with extensive experience in giving cooking workshops on Indian Cooking. She is owner of Krishna Indian Cuisine.
Meld je hier aan/Register here