BIODYNAMIC BREATH WORK 
met Lisanne Niekerk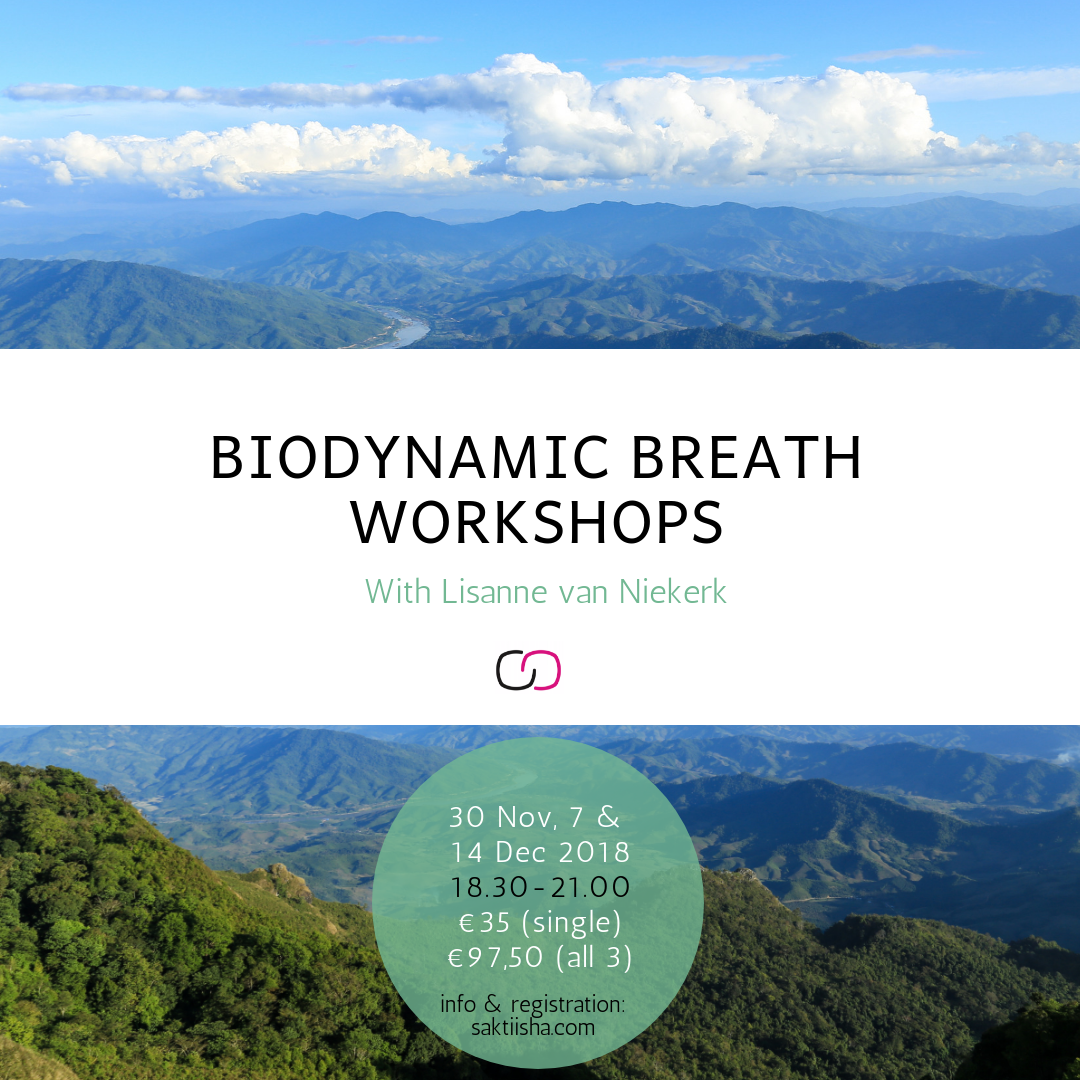 Je kent het gevoel: 'ik zit vast!'. Misschien weet je waar je vast zit, misschien weet je het niet en loop je daarop juist vast – het niet weten… Het maakt niet uit op wat voor manier jij het ervaart, maar 'vastzitten' is een indicatie dat de energie niet stroomt en dat je spanning vasthoudt.
Spanning kan zich op vele manieren uiten. Het kan zich fysiek in ons lichaam uiten, of emotioneel of mentaal. Zelfs vaak op meerdere manieren tegelijk. bijvoorbeeld in een bepaalde situatie waar je niet vooruit komt, of letterlijk als een spanning die je ervaart in je lichaam. 
Spanning is in principe gezond, het helpt ons in actie te komen en te overleven. Het vecht of vlucht-mechanisme bij een bedreigende situatie is een natuurlijk verdediging die ons helpt overleven. Het lichaam houdt de spanning die daarvoor wordt opgebouwd vast wanneer die na afloop van een stressvolle situatie niet goed verwerkt is. Die spanning kan zich uiten in vastzittende spieren, minder bewegingsmogelijkheid en fysieke pijn. Het kan zich uiten in moeite hebben met concentreren, je snel zorgen maken, angst, oververmoeidheid en snel overweldigd zijn. Chronische spanning haalt onze veerkracht omlaag, waardoor het steeds lastiger wordt voor het lichaam terug te keren naar de natuurlijke gezonde staat van zijn.
Tijdens deze workshop geven we het lichaam de mogelijkheid te openen in een veilige setting en chronische spanning te ontdekken en los te gaan laten. Daarvoor gebruiken we een diepe connectieve ademhaling, die ervoor zorgt dat je kan gaan ervaren en onderzoeken wat zich nog in jouw lichaam afspeelt. De workshop is gebaseerd op Biodynamic Breath & Trauma Release System® (BBRTS®) waarin de volgende elementen worden gebruikt:

Adem – Een diepe connectieve ademhaling om de energie in het lichaam op te bouwen en in beweging te brengen
Beweging – Verschillende bewegingsoefeningen helpen om vastzittende energie in het lichaam te laten stromen. Dit kan bijvoorbeeld door het openen van fascia, core tension release oefeningen of intuïtieve beweging en dans.
Geluid – De vibratie van de stem, muziek en instrumenten wordt gebruikt om het zenuwstelsel te ondersteunen in het loslaten van spanningen.
Bewuste aanraking – Gebruik van drukpunten op het lichaam en fysieke assistentie bij bewegingen helpt bij het vergroten van bewustzijn van het lichaam en de doorstroom van energie.
Emoties – Bewust beleven en loslaten van emoties kan deel uitmaken van een sessie, maar is geen doel op zich. Tijdens de sessie word je aangemoedigd bewust te zijn van de emoties die zich aandienen en naar je eigen resource te gaan wanneer nodig.
Meditatie – Brengt het lichaam en de geest in een staat van rust om alle voordelen van de sessie en het werk dat je hebt gedaan te integreren en zorgt voor een groter bewustzijn en regeneratie van het lichaam.
Deze workshop is perfect voor mensen die open staan voor een ontdekkingsreis door hun eigen lichaam. Na de workshop ervaren deelnemers vaak meer energie, meer vrijheid en zijn klaar om nieuwe stappen te zetten! 
De serie workshops bestaat uit 3 delen, die ook afzonderlijk van elkaar te volgen zijn. In iedere workshop ligt de focus op een ander gedeelte van het lichaam.
Prijzen:
€ 35 losse workshop
€ 97,50  serie van 3 workshops
KOOP JE KAART HIER

Data 2018:
30 november: hoofd  >> REGISTREER HIER
7 december: hart >> REGISTREER HIER
14 december: hara >> REGISTREER HIER


Biodynamic Breathwork heeft een aantal contra-indicaties die reden zijn om niet mee te doen met de workshop: zware hartaandoening, zware astma, een mentale aandoening, epilepsie of ooit een beroerte gehad, een acute fysieke aandoening, zware diabetes, zwangerschap. Bij twijfel of je mee kunt doen kun je altijd vooraf overleggen met jouw huisarts of specialist en overleggen met de facilitator.
* minimale leeftijd voor deze workshop is 16 jaar
** Tijdens de workshop mag men niet onder invloed zijn van drugs/alcohol (uitgezonderd voorgeschreven medicijnen)
Profiel Lisanne