Calm the Mind, Relax and Connect - 8 week meditation course
with Riim van den Berg (Sankalpa Holistic Health)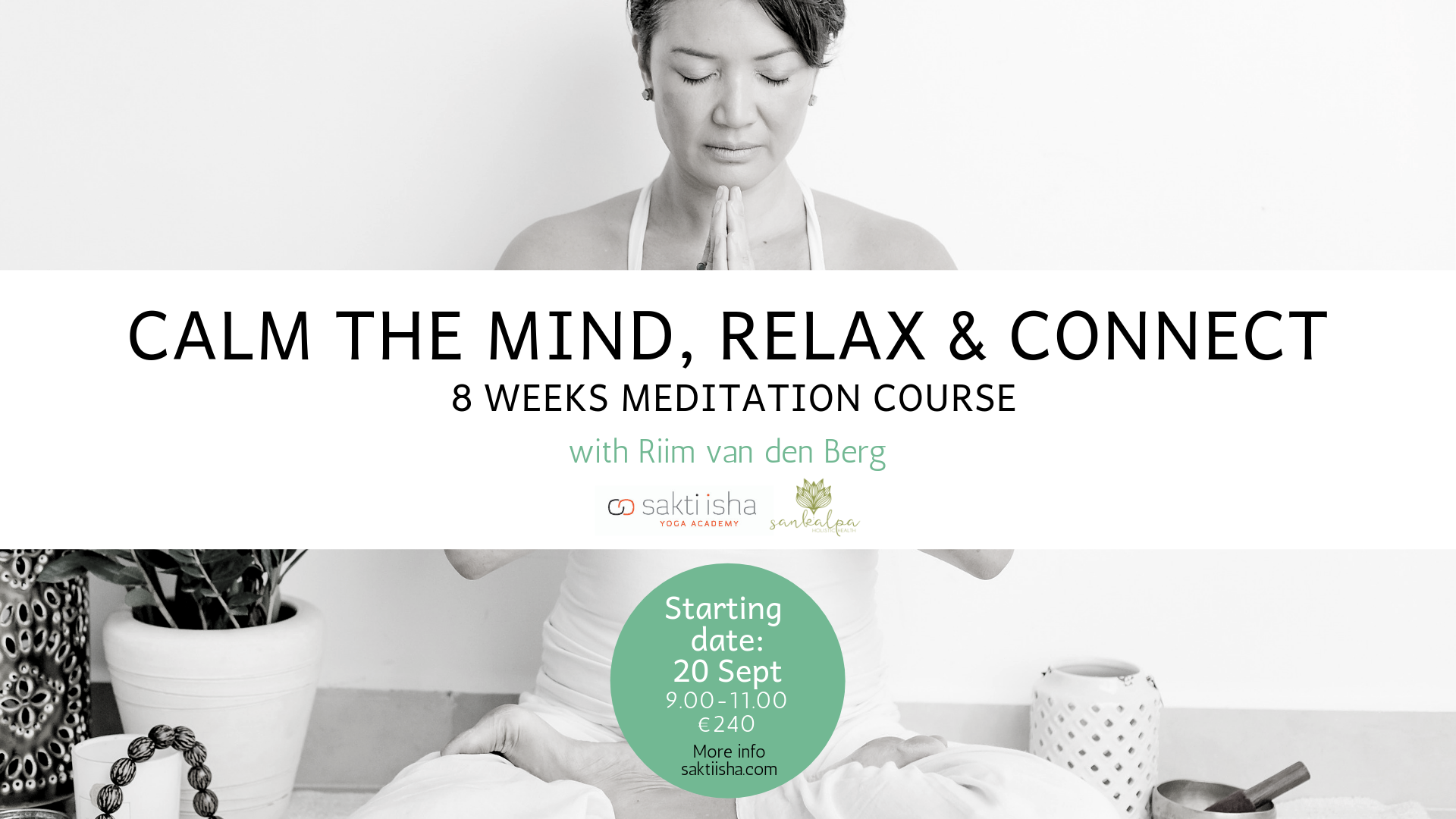 Date:
Starts Friday 20 September (and 7 consecutive Fridays)
Time 9.00-11.00
Prijs:   € 240
Locatie:  saktiisha yoga centre


Raise your hand if you are experience stress of everyday life, insomnia, restlessness, anxiety, not being able to focus or concentrate or health problems.
More than ever are we collectively experiencing so much stress and we have all heard about how meditation can help combat stress. But have you truly experienced how meditation can do that?
We invite you at saktiisha to learn to integrate meditation in your daily life. Teacher Riim van den Berg will not only give you the scientific view of meditation but also the traditional view. But most of all she would like you to experience how it can calm your mind, relax your body and how it can help you connect with yourself and with others.
Who is the course for?
- You are new to meditation and curious what it is
- You have meditation experience but want to integrate in a daily practice
- You experience stress, sleeplessness, restlessness or anxiety
- You want to be more present, mindful and connected with yourself and others
- You want to feel energized, relaxed and content
- You want to train your mind and develop yourself
- You want to live a healthy lifestyle
- This will be done by learning, practicing and experiencing 4 different meditation categories.
These are:
- Present Moment awareness
- Intention meditation
- Vedic meditation
- Energized (physical and breath) meditation
In each category you will learn different techniques. With these techniques
You will learn to:
- cultivate awareness so to help you find peace in the present moment
- transcend your ego so you can discover yourself
-- bring your mind into sharp focus to help you be at your best
- control your breath so to energize and relax the body
All of this will be in a safe and supportive environment with guidance from the teacher.
After the course you will have the tools, instructions, practice to integrate these techniques into your daily life to calm your mind, relax the body and connect.
Ready for a mental, emotional and physical change?
It is not always going to be easy but you will come out a better person with many tools to apply!
PLEASE NOTE: COURSE AND ITS MATERIALS WILL BE IN ENGLISH


Register here